The Ultimate Vehicle Static Ground Verification System
Don't let unsure grounding methods leave you guessing. Transport vehicles should always be properly tied to ground before and during the terminal loading operation of petroleum or liquid chemicals. There should never be any doubt regarding the performance of grounding systems at your terminals. Most of the systems in place give you little assurance of their operation, but the Scully Groundhog gives you complete assurance that a proper static ground tie-in is present. The Groundhog is a self-proving grounding system for maximum safety in loading operations. It can operate in conjunction with your existing Scully Over­fill Prevention System or as an independent unit. The Scully Groundhog grounding system can be used for a wide variety of loading operations, including tank trucks, rail cars, and aircraft refuelers.
Curious about how the Scully Groundhog can help you? Check out these features and benefits:
Self-proving, the Groundhog continuously monitors the grounding connection throughout the loading operation.
Can be used in conjunction with your Scully Overfi­ll Prevention System, offering one quick connection for overfi­ll protection and grounding veri­fication.
Can also be used as a completely independent grounding system with a special quick-release plug for grounding to a specially designed, vehicle mounted, electronic ball.
Direct earthing tie point at loading rack available.
Immediately shuts down the loading operation if proper static grounding is not present.
FM-approved with no manual checks needed.
The Scully Groundhog's intelligent features leave no room for error.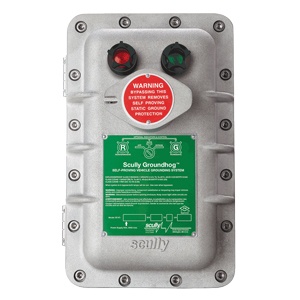 The Scully Groundhog enables you to have complete confidence that grounding to the vehicle's frame has been accomplished. The Groundhog is an intelligent system that continuously and automatically monitors the grounding connection during the entire loading operation. If an earth tie-in is broken, the product is designed to immediately shut down the loading operation. That's proof-positive and something no other system can provide. The Groundhog control monitor is mounted at the loading rack with indicator lights on the face providing visual proof that proper grounding has been accomplished.
For applications where a ground ball or bolt is unavailable, the Groundhog Monitor can be used with a Scully ground verification clamp and cable unit, which is designed to drain static charges built up on vehicles, railcars, and other metal liquid containers.
Are your grounding system options limited?
The good news is the Groundhog Control Unit can be wired into your existing Scully Overfi­ll Prevention System to create the ultimate safety system. Just one little connection gives you both overfi­ll and grounding protection. This single connection simplifies loading and eliminates the need for additional plugs and cables at the loading rack.
The Groundhog utilizes a separate conductor in the existing Scully Over­fill Prevention Plug and Cable, with a special Scully Ground Bolt mounted on each vehicle. The Scully Ground Bolt's sensing lead is wired to the Scully Overfi­ll Prevention Socket. Scully is the only company on the market that offers you a complete, integrated over­fill prevention and vehicle grounding system for maximum safety in your loading operations.
Don't use a system that's easily cheated.
There are many systems that claim to be foolproof and even self-checking. It is possible for many of these systems to bypass a safe earth tie-in by attaching the clamp to the rack, a metal shim, or by jumping the plug contacts with a paper clip. In many cases, there is no proof that proper earthing has been made or that the system is functioning correctly. Here's an important detail: Scully Groundhog carries approvals for "explosion-proof with intrinsically safe ground connection outputs. Rated for Class I, Division 1, Groups C & D Hazardous (Classified) Locations, by FM Global (FM) to Canadian and United States standards." Does a paperclip or shim meet that standard?
The Scully Groundhog, when used together with a Scully Ground Ball or Ground Bolt, foils these typical cheating methods and malfunctions that can lead to grounding vehicles improperly. The Scully Grounding System ensures that unless the proper grounding connection has been made, the loading process will not begin. It will automatically shut down the loading operation if the ground is broken. The Groundhog's intelligent monitoring capabilities and the special electronic circuitry inside the Scully Ground Ball and Ground Bolt form a self-proving system. You don't even need to perform manual checks! The Scully Groundhog is truly unique and provides you with the safest and most dependable means for vehicle static grounding. Above all else, it enables you to maintain the integrity of your loading operation.
Have a unique application? Scully has a system for it!
One of the amazing aspects of the Groundhog is that it holds the ability to function as a completely independent system. This system is ideal for top loading or applications where a Scully Over­fill Prevention System is not in use. The control monitor connects to a heavy duty Sculcon® junction box with attached cable and special quick-release, snap-on plug. The Scully Ground Plug connects to a specially designed electronic Scully Ground Ball mounted on each vehicle. The controller, in conjunction with the Ground Ball, provides and verifi­es vehicle grounding before loading can begin. The controller must receive an electronic return signal from the Ground Ball throughout the entire loading operation to ensure proper grounding.
How well do you know Scully Signal Company?
Scully Signal Company is a pioneer in fluid handling equipment and fail-safe fluid detection systems. Our innovative self-checking technology provides for the safe, efficient, and reliable transportation, storage, and handling of valuable liquid resources. Engineered and manufactured in the U.S.A., Scully's monitoring and communications solutions offer quality and reliability, backed by world-wide technical support. Dedicated to protecting people and the environment, Scully's services and systems help to prevent spills and explosions and ensure ecologically sound, profitable operations.
Scully Signal Company has over 30 years of electronic liquid handling experience providing the ultimate dependability, service, and safety. How can we help you better handle your terminal equipment, overfill prevention, grounding, and safety needs? Contact us now to find out.