Keep Terminal Workers Safe with Reliable Rack-to-Vehicle Connection
Preventing overfills and keeping workers and operations safe from static charge build up is always top of mind when loading and unloading vehicles at the fuel terminal. A key element to ensuring a vehicle is grounded before loading begins is a reliable rack-to-vehicle cable and plug connection.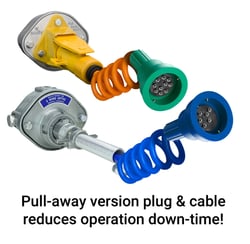 Properly maintained cables can last a long time. However, over time, cable assemblies eventually wear out due to use and must be replaced to be part of an effective overfill prevention system. When the time comes to replace your cables, Scully can help you select the right cable and plug pairing—quickly and conveniently.
Check out the guidelines and information below on selecting the correct equipment. Or visit us on March 14-16 at StocExpo 2023 (Booth F7) or ILTA 2023 (Booth 717) to speak with our team about Scully systems and replacement cables.
Choosing the Correct Fuel Terminal Replacement Cable
If the cable was part of your originally equipped system, please email or call your regional contact per the information below to place an order. Please be ready to provide the part number for fastest service. If you don't know the part number, we can help you identify it based on your company's purchase history. Remember that only original Scully replacement parts are built to our quality standards.
If the part number has worn off and/or there is no supporting documentation, please refer to the cable guides below to find the correct replacement cable or email or call your Scully regional contact and we can help you identify the right cable.
Three Steps to Help Identify Your Replacement Cable
Whether you look up the information yourself or Scully helps you find your replacement cables, the following questions will help narrow down the options. Let's start with the basic identifying characteristics. Some special applications may require further questions to qualify your cable needs:
What color is your existing plug?

How many pins are there for j-slots?

Do you need a straight or coiled cable?
Identifying the cables by color (blue or green) and configuration (2-wire or 5-wire interfaces) is vital for proper selection. For example, 2-wire probes use a green socket, while 5-wire probes use a blue socket.
The answers to these questions typically provide enough information to select the proper fuel terminal replacement cables. In some instances, to ensure proper selection we may need to ask additional questions, such as:
Is the cable wired directly to the controller or is it wired via a junction box?

Is it hard wired or a pull away cable?
Most often, we field these questions for customers looking to replace cables at the terminal. For truck set-ups, we ask the opposite—what kind of cables are at the rack? Furthermore, your location can also help narrow it down. For example, 5-wire blue cables are typically, although not always, used west of the Rockies in North America, or in the United Kingdom they use blue cables with a black plug.
Sometime people wonder why we ask these questions—after all, they bought the cable from us, so we should know what they need. And we do—we just need to narrow down the options to ensure the proper pairing. Scully Customer Service Representative Glenn McKay says, "While we do have a very large number of cables, choosing the right replacement cable is a fairly simple process. Customers may have 20 questions about them, but it only takes about three or four—and a minute or two—to find what you need."
Click Below to Download our Plug & Cable Guide PDFs
Scully Plug & Cable Assembly Guide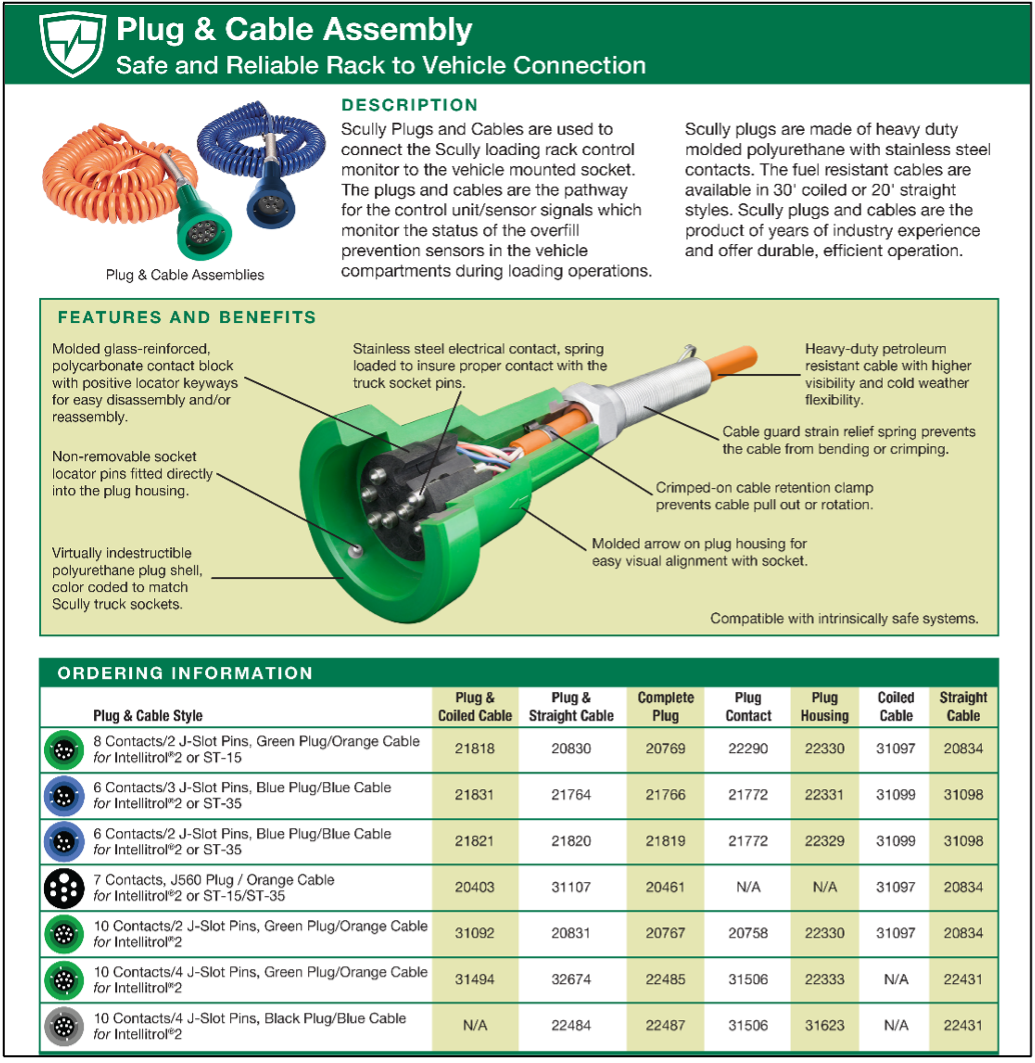 Europe - Scully SculCon with Plug & Cable Ordering Information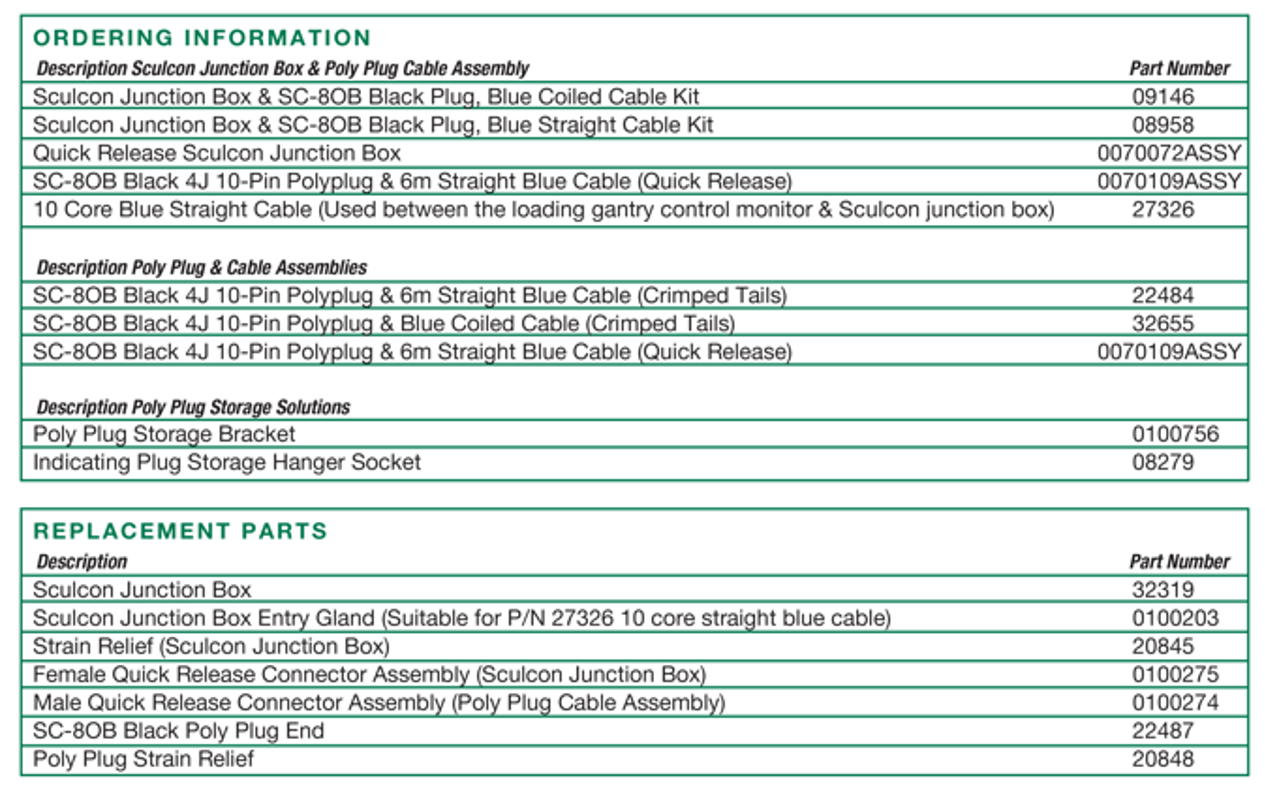 North America - Scully SculCon with Plug & Cable Ordering Information

Scully Plug & Cable Assemblies Review
Scully plugs and cables are used to connect the Scully loading rack control monitor to the vehicle-mounted socket. The plugs and cables are the pathway for the control unit/sensor signals, which monitor the status of the overa­ll prevention sensors in the vehicle compartments during loading operations.
Scully plugs are made of heavy-duty molded polyurethane with stainless steel contacts. The fuel-resistant cables are available in 30' coiled or 20' straight styles. Scully plugs and cables are the product of years of industry experience and offer durable, efficient operation.
Features & Benefits
Molded glass-reinforced, polycarbonate contact block with positive locator keyways for easy disassembly and/or reassembly

Non-removable socket locator pins fi­tted directly into the plug housing

Virtually indestructible polyurethane plug shell, color coded to match Scully truck sockets

Stainless steel electrical contact, spring loaded to insure proper contact with the truck socket pins

Heavy-duty, petroleum-resistant cable with higher visibility and cold weather flexibility

Compression strain-relief spring prevents the cable from bending or crimping

Crimped-on cable retention clamp prevents cable pull out or rotation

Molded arrow on plug housing for easy visual alignment with socket

These devices are part of an intrinsically safe system certified by FM
Scully: Vertically Integrated for Exceptional Quality and Service
Scully's core systems include a wide range of equipment for liquid detection and delivery, including—but not limited to—overfull prevention, static ground proving, retained product monitoring, and oil delivery efficiency equipment.
Scully is vertically integrated with in-house engineering and manufacturing, including a machine shop, diecast, electronic, and mechanical assembly, as well as design and test engineering capabilities. Our long-standing relationships with suppliers and extensive in-house capabilities ensure we have ready access to components and plenty of production capacity.
Need help selecting your replacement cable? Call or email our Customer Service Team or visit us in person at StocExpo 2023 or ILTA 2023!
1 (800) 272.8559
Scully Systems NV
+32 (0) 15560070