Robust, Durable Locking Cap Keeps Thieves at Bay from Tanks
With petroleum and oil products commanding high prices, the risk of theft is rising in the U.S. Tanks using a tight-fill connection holding diesel, heating oil, and lube may be installed away from human supervision—making them easy targets for theft. An average size tank holding 275 gallons of heating oil at an average price of $5.81 per gallon (per Mass.gov November 18, 2022), is worth $1,597 of oil that can be vulnerable to thieves when left unprotected. Theft, which has primarily been a problem in emerging nations, has become more prevalent in U.S. markets.
One of the easiest ways to protect your product is to lock your tank to make it difficult for thieves to access valuable commodities. Scully's Scul-Lock cap is one of the most difficult-to-tamper with theft-prevention tools available.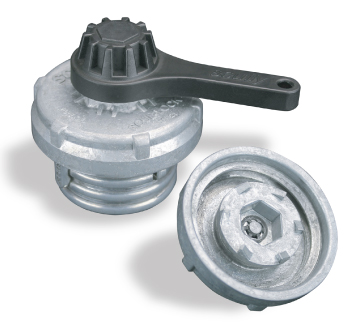 Fuel oil delivery operators worldwide have come to rely upon our advanced solutions—from fuel oil delivery nozzles to whistles and gauges and overfill prevention and grounding verification systems—to keep their operations flowing smoothly and safely.
Our robust Scul-Lock cap has a cast locking mechanism that is harder to break through than any other cap and lock on the market. The mechanism can withstand a hard tap on the cap assembly, which prevents it from easily opening, unlike competitors' less robust, more vulnerable products.
Rugged, Made-in-the-U.S.A. Locking Cap
Made in the U.S.A. (minimizing delivery risks), our Scul-Lock locking cap features:
A custom-opening handle that cannot be easily duplicated

Custom-manufactured aluminum label disks for co-branding or contact information

Rugged design that withstands tampering to the cap assembly

Cast locking mechanism that is stronger, and more durable and secure than lesser products sold on the market
Reduce the risk of losing valuable petroleum and oil commodities to theft. Lock those tanker trucks and ensure your assets are less vulnerable today! Contact us for more information on how we can help you keep thieves at bay.
About Us
Scully is vertically integrated with in-house engineering and manufacturing, including a machine shop, diecast, electronic, and mechanical assembly, as well as design and test engineering capabilities. We have access to components and plenty of production capacity.
Scully's core systems include a wide range of equipment for liquid detection and delivery, including—but not limited to—overfull prevention, static ground proving, retained product monitoring, and oil delivery efficiency equipment. You can depend on us for safe, dependable products and service. Contact us to see how we can help!