Meet the June 2023 Deadline for New NFPA Fueling Safety Requirements
New National Fire Protection Association (NFPA) 407 requirements go into effect June 2023. NFPA has updated regulatory requirements for aviation fill stands and refuelers to improve safety, reduce the risk of fuel spills, fires or accidents, and help protect operators from injury.
The new NFPA 407 requirements include:
Two-level overfill protection on refuelers and fill stands (positive shutdown of pumping).
Bonding of refuelers to the fill stand to prevent sparks or electric arcs in a potentially combustible atmosphere.
An operational deadman switch to ensure constant human monitoring of the refueler and fill stand during the fueling process.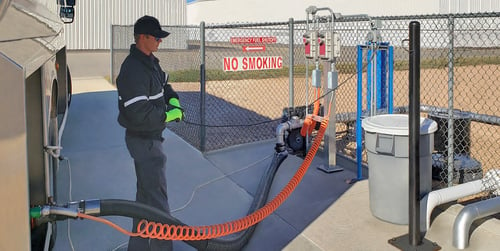 With the deadline for compliance just a few short months away, it is timely for aviation operations managers to confirm that their fueling processes will comply with the new regulatory requirements. Depending upon where your facility is located—the Federal Aviation Administration (FAA), local fire marshal, airport authorities, state weights and measures, or even your insurance company—might have the jurisdiction and authority to ground your planes if your fueling operation isn't in compliance.
Challenges of Compliance
The NFPA began developing aviation fuel standards for airports in 1966. Over the years, there have been 15 revisions to regulatory rules and language to address safety and efficiency, and to mitigate potential environmental issues. Revisions are based upon the recommendations of the NFPA technical committee. The committee looks at ways to improve the fueling process—taking into consideration past incidents, and evolving technologies—while keeping investment dollars and cost of ownership in mind.
The implementation of new safety requirements creates challenges for aviation facility managers who must ensure they are in compliance while balancing budgetary and scheduling considerations. One of the biggest hurdles can be trying to interpret the new regulations so you can decide what actions are necessary. Confusion over the new regulations has led some operators to delay moving forward with renovating or retrofitting their facilities.
Selecting the Best Fueling Safety Solution
To decide upon the best approach for meeting the June 2023 deadline, it's helpful to look at your current fueling operation and assess what type of installed infrastructure is currently in place. For example, there can be a wide assortment of installed infrastructure on the fill stand (tanks, piping, hoses, pumps, meter/registers, bonding cable, and deadman system). The majority of airports also have an array of refuelers, built by different manufacturers with a range of model years.
If you are building new facilities or undergoing an extensive renovation, a complete system is likely the best path. An overfill prevention system that can achieve two-level overfill, bonding, and deadman operations in a single rack monitor device, such as the Scully Intellitrol®2, is a highly efficient solution. With this system, the monitor is connected to the refueler with a cable and can interface to a tank with two electronic sensors or one electronic sensor and a (hydraulic) jet level sensor to meet all regulations.
If your fill stands have deadman systems and bonding cables in place, you only need to address the overfill portion of the fill stand requirements by adding an overfill monitor to communicate to an electronic sensor on the refueler truck. The addition of an indicating monitor to verify a rack-to-vehicle bond may also be a good idea. Scully's ST15 Overfill Prevention Control Unit (for single point overflow prevention) or the ST47 Groundhog Static Ground Proving Control Unit are good options.
Whatever solution you pursue, it's important to work with experienced contractors who understand how electrical connections, product piping layout, and flow control impact the installation of fueling safety equipment. With June 2023 fast approaching, it may be difficult to find a contractor with the time and skill set to install your overfill prevention equipment before the deadline.
We Can Help
With decades of experience, Scully can help you create an optimal fueling safety compliance plan, taking into consideration your budget and schedule, to avoid being shut down when the new NFPA 407 regulations go into effect. Our team will help sort through the options, whether you are building, renovating, or retrofitting an existing fueling operation. We will consider your short- and long-term operational objectives when planning the upgrades, as well as any budgetary requirements.
About Us
Scully offers the world's leading overfill prevention and bonding systems. Our core systems include a wide range of equipment for liquid detection and delivery, including—but not limited to—overfull prevention, static ground proving, retained product monitoring, and oil delivery efficiency equipment. You can depend on us for safe, dependable products and service. Contact us to see how we can help!