The "Scully" name has a long history of innovation, which began in 1842 when James Scully created the first steel interlocking sheet piling and rotating cement trucks. This development was integral to the construction of bridges, breakwaters, and subways, as well as prominent buildings, throughout Boston. Continuing the family tradition, his son Francis, an MIT-educated engineer, patented the first-ever oil spillage device and incorporated Scully Signal Company in 1936.
Over the years, Scully has grown significantly, expanding the product line to include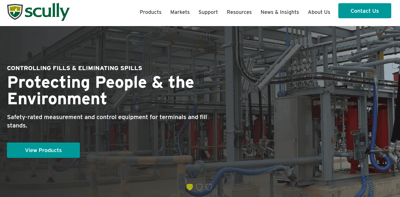 a comprehensive line of vehicle and tank transportation and storage solutions, including the revolutionary Dynacheck® self-checking monitoring concept. Since that time, the company has become world-renowned for providing the most advanced safety equipment for fluid transfer and handling, and the Scully name has become synonymous with safety and reliability.
Investing in the Future
President & CEO Katrina Scully Ohl has held fast to her great grandfather's vision. She has expanded upon the company's strong foundation, investing significantly in infrastructure and in-house expertise, and strengthening long-standing relationships with suppliers.
In addition to capital and talent investment, the company launched a new website in early 2023. "As part of our commitment to providing excellent service, we decided it was time to revamp our website to make it more interactive and useful for customers," said Ohl.
The new Scully website provides information on the company's expansive range of fluid transfer and handling solutions, while offering in-depth resources—videos, application notes, white papers, blogs, news, and insights into industry trends—that may be helpful to site visitors.
"We've invested millions of dollars in capital equipment and communications systems so that we can be well-equipped, agile, and flexible to deliver the quality and custom volumes our customers require," said Ohl. "Our new website is an extension of that commitment; we want our customers to know that we are always here for them as a resource and that we have the solutions they need."
Vertically Integrated for Exceptional Quality and Service
Scully is vertically integrated with in-house engineering and manufacturing, including a machine shop, diecast, electronic, and mechanical assembly, as well as design and test engineering capabilities.
Scully's core systems include a wide range of safety equipment for bulk liquid and petroleum transfer and delivery, including—but not limited to—overfill prevention, static ground proving, retained product monitoring, and oil delivery efficiency equipment. This comprehensive range of solutions, long-standing relationships with suppliers, and extensive in-house capabilities ensure we have plenty of production capacity and ready access to components.
You can depend on Scully for safe, dependable products and service. Contact us to see how we can help you!