For 80 years, Scully Signal has been known for industry-leading innovative products, reliable operation in the field, and friendly customer service representatives. However, there are other Scully capabilities that you may be less familiar with. One of the best services that Scully has to offer is the expert help provided by our technical service department, and we would like you to meet some of our US technicians and get some good advice. Our Tech Service Departments receive many inquiries every day, both by phone as well as e-mail, so we decided to sit down with one of our top representatives, Jason Mortenson, and ask him about the many different tasks that he encounters every day and how Scully customers can best take advantage of his expertise.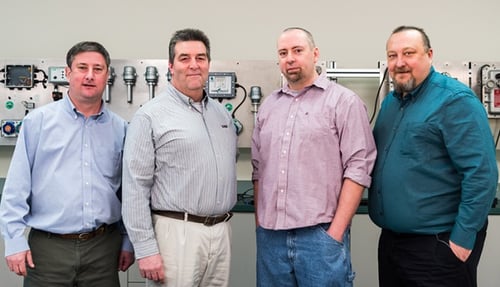 Some of our great techs! From left to right:
Frank Scully, Paul Currie, Jason Mortenson, Tom Marjanski
Technical Service offers support with equipment installation, support, programming assistance, troubleshooting, repairs and returns. They work with customers over the phone as well as via email. A phone call is preferred because the communication between the customer and Scully is immediate, and runs much smoother when talking live. "We're generally always here and we're going to always pick up the phone so our customers know right away that somebody's here and is helping them out. That's the best thing about our Technical Service area. When you call in, somebody's going to answer the phone. If we are tied up on another call and you need to leave a message, we get back to you within 5 minutes, there's no question," says Jason.
Many of the calls and e-mails thatTechnical Service receive are installation questions for systems like Scully's Intellitrol®, ST-47, and ST-35 on the rack side, and programming questions for truck products like Scully's IntelliCheck®2 and IntelliCheck®3, as well as the Load Anywhere® system. Jason provided a few pointers for customers calling Scully for assistance:
Be prepared before the call. Make sure you know the name or model number of the product you are calling about and prepare the equipment for troubleshooting. A good example might be to remove the cover for equipment like the IntelliCheck® on-board truck control unit so we can help you quickly.





Provide as much information as possible. Be prepared to discuss which indicator lights are on or what the specific problem is. "The more information the better". Says Jason, "It will save you time and get your Scully product up and running faster."
"The updated availability of the product manuals on our website has provided customers with answers to many of our previous issues" says Jason, but customers appreciate being able to talk through the procedures and understand why the equipment is responding the way it is".

Jason continues, "When you are getting ready to send back a Scully product, it's important to list what is wrong with it and why you're sending it back, OR, if you're calling with a problem, just convey to us the best you can what the problem is and be ready for us to ask you to troubleshoot something, so we can help you determine the cause of the problem.

One of the reasons that Scully's Technical Department is so helpful is their technical expertise, based on many years of experience. Their commitment to quick response times and helpful, informative support prevents equipment down-time and keeps your operation profitable. In fact, we even offer after-hours support for emergency technical support. Without many of the reviews we receive, we would not be able to provide the same type of assistance that we do. The best way for us to provide you with the information that you are looking for is to let us know where we can improve, based off of your experience during communication with us. Many customers send us rave reviews about our tech service team and tell us that our technical support far surpasses that of other suppliers in the industry.
Here at Scully, we love to help you. We are here to make your life just a little bit easier. Give us a call at 1-800-2-SCULLY whenever you have a question regarding anything technical, and be sure to share this post with anybody you think can benefit from our technical support.