Top Quality Standards Help Maintain Exceptional Safety Expectations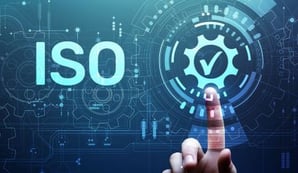 Why is an ISO-certified Quality Management System (QMS) so important to companies and their customers? We all look for quality products and expect high standards of service—all at minimal risk to our business goals. With such a robust global economy and products and services available across countries, industries, product lines, and markets, there needs to be a quality management marker for differentiating manufacturers that adhere to standards that deliver quality … consistently.
Acting ISO Secretary-General Kevin McKinley explains: "ISO 9001 allows organizations to adapt to a changing world. It enhances an organization's ability to satisfy its customers and provides a coherent foundation for growth and sustained success." Motivation for this revision is to address the changing world. McKinley goes on to say, "Organizations need to perform in new ways, and our quality management standards need to keep up with these expectations. I am confident that the 2015 edition of ISO 9001 can help them achieve this."
The 7 quality management principles that the ISO 9001:2015 certification specify are:
Customer focus
Leadership
Engagement of people
Process approach; as well as a systems approach to management
Improvement
Evidence-based decision making
Relationship management
Scully has been ISO 9001 certified since 1996 and was certified to the new standard early on before it was required. We consistently exceeded the benchmarks we set in the attainment of this globally respected certification. Some of the lean processes and quality management systems we have in place include:
7 Wastes of Operations
Defects
Inventory
Processing
Waiting
Motion
Transportation
Overproduction
As a manufacturer and service provider, Scully takes our commitment to quality very seriously: because quality means safety, which is our top priority. To ensure we consistently maintain our zero-fail goals, we institute continuous improvement and document our processes, streamlining and organizing systems to deliver quality results with our products and services every time. Combined, we have a quality management system that allows us to note traceability, benchmarks, and track progress and history.
The overarching result is that customers can depend on Scully to make decisions on all levels of the organization that mitigate risk for all stakeholders, a big focus of the 2015 revision, as the ISO standards are guidelines intended to promote best practices. Having ISO 9001:2015 certification signals to customers that, along with the practices noted above, Scully complies with industry laws and regulations.
Scully Signal Company has over 30 years of Overfill Prevention Systems and electronic liquid handling experience providing the ultimate dependability, service, and safety. How can we help you better handle your terminal equipment, overfill prevention, grounding, and safety needs? Contact us now to find out.