Scully Signal Company was one of the first companies worldwide to successfully complete TÜV® Virtual Recertification Audit
The ISO 9001:2015 is the latest quality management standard set by the International Organization for Standardization. This set of organizational requirements puts particular emphasis on more involvement from upper-level management and other stakeholders including employees, vendors, and customers. Continuous improvement and policies and procedures aligned with an organization's strategic objectives are also a focus of this certification.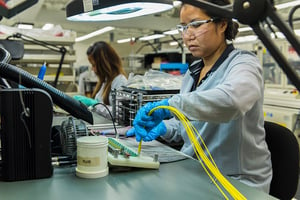 In April 2020, Scully Signal Company successfully completed a rigorous three-year recertification audit through TÜV USA, Inc., which is part of German-based TÜV NORD Group—one of the world's most recognized ISO 9001 certification agencies.
Ed Sullivan, Certified QMS Lead Auditor, conducted an extensive, three-day virtual audit via Microsoft® Teams meetings, extensive document reviews, and real-time video footage of Scully's processes and procedures. Mr. Sullivan audited Scully's incoming inspection and manufacturing operations as well as Engineering, Customer Service, and other departmental standards throughout the company's US-based facility.
"I was impressed," said Mr. Sullivan. "We were able to review all of the procedures in great detail, and the level of commitment and support that all of the stakeholders showed at Scully was amazing. They have made a commitment to quality that is clearly evident throughout the company, from the CEO to the technicians on the factory floor. I was pleased to be one of the first TUV auditors to be involved in a virtual audit."
Chris Hristov, Quality Assurance Manager at Scully, was instrumental in organizing the process and implementing technology to enable the virtual audit through online meetings, file transfers, and camera sharing. He stated, "As a diverse team, all of us at Scully bring unique perspectives to the challenges we face and welcome change and continuous improvement. Whether in person or virtually, we are committed to quality, innovation, and the organization's heritage of protecting people and the environment."
Scully has been ISO 9001 certified since 1996 and was one of the first organizations certified to the ISO 9001:2015 requirements in 2016. "We have a long history of commitment to quality and safety," said CEO Katrina Scully Ohl. "It's part of our DNA, so it is critical that we ensure the proper culture, organizational structures, procedures, and focus on continuous improvement are in place to deliver on our promises. This is not a piece of paper—this is a way of doing business that we embrace."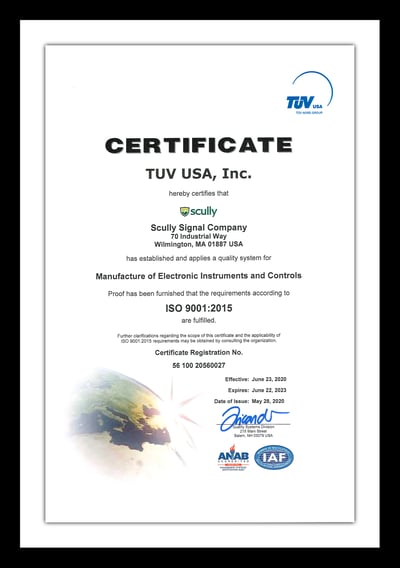 About TUV USA, Inc.
New Hampshire-based TUV USA, Inc. is part of TÜV NORD Group—a globally leading organization for testing, inspection, and certification. Founded 150 years ago, the brand TÜV began as an independent inspection body aiming to improve safety and reduce incidents in the manufacturing industry. With a corporate philosophy based on independence and integrity, TÜV NORD Group is now a global leader in technology services with the clear aim of accompanying its clients with prudence and foresight into the future.
About Scully Signal Company
Founded in 1936 by Francis P. Scully, Scully Signal Company is a third-generation, family-owned manufacturing company that engineers and manufactures self-checking fluid detection and delivery systems. Scully equipment and service support are world-renowned for enabling the reliable and safe loading, transportation, and storage of valuable liquid resources.
To learn more, visit: www.scully.com

For product information: 1-800-272-8559, or contact: Scully International Headquarters: sales@scully.com
Media contact: Jamie Haslett; JHaslett@scully.com (617) 692-8668